Furniture Bargains lead to Impulsive Buying. No regrets.
I overheard some friends last night talking about the great deal they had gotten on a dining table and chairs recently.  I was only half listening to the conversation, but as we are planning on buying new furniture when we move, I had to ask where they were talking about.  They had gone to World Market.  
Today, as Ryan and I were having lunch, I suggested that we go by and check them out.  After about five minutes in the store, we found a table marked down 75% from about $450.  Even though we don't need furniture until later this summer, we decided this was too good of an offer to pass up.  By the time we paid for it, they had taken another $10 off, and we ended up paying $110.95 for a good quality, beautiful, sturdy table that will last us a long time.  
We spent the rest of the day driving to other furniture stores and two other World Markets to try to find chairs to go with it, as the first store was out of the matching chairs.  When we found the matching ones, they weren't quite what we wanted.  I think we've decided to go with some leather chairs from Ikea that we found a few weeks ago.  However, we did find this this tweed accent chair that we might have to go back and get tomorrow…It's marked down $100 from regular price!!!  We've broken into the furniture buying thing, and I hope we can control the temptation to jump on every good deal we see.  Oh well.
(Oh, and another comical note … It turns out we bought the same table as our friends who gave me the idea to go there in the first place!!  Turns out they are the ones who bought the last of the chairs!)
Here's our new table: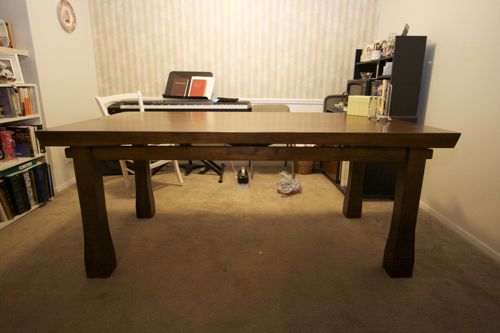 Here's our new table next to the old one: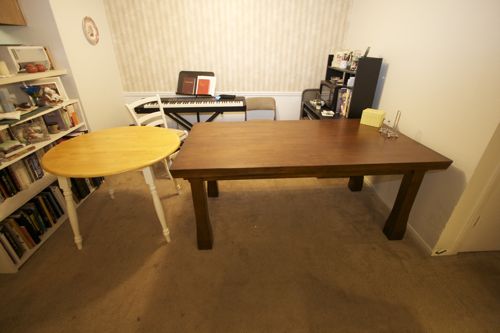 Posted May 23rd, 2009 in
House
.