Today was a little more laid back than the rest of our trip has been. It was a beautiful, sunny, warm day.
Evelyn and Emily got up early to meet Maria Elena from the church to go visit a local jail. They had to meet her at 7:45 AM.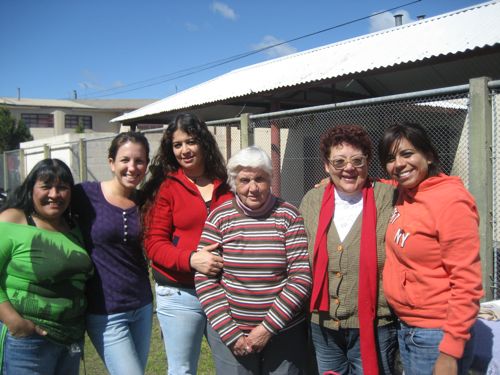 Ken, Don and I left about 9:30 to go with Kurt to the Conversational English class that he teaches each Saturday up at the church. So far he still only has one student, Herman, who has been helping us out some this week as a translator. We had hoped there would be more since we passed out flyers on Thursday, but no more came.
The class is a very informal setting. There is mate, coffee, snacks and conversation. Kurt teaches just by engaging students in conversation. As we talked, it was interesting to see what new vocabulary came out of our discussion. We taught Herman about "gadgets" and "knick-knacks"!!
Around 11:30, we finished up the class and headed back to Kurt's house to pack up and move our things back to the hotel. The other girls arrived back at the hotel just as we were unloading all of our stuff.
We went down to the main street and got some cash at an ATM, went to Thionni's for some lunch, and then spent a couple of hours shopping on Cantila street. All five of us got mates ("Ma-tays") to take home, as well as several souvenirs to take home to our friends.
We were pretty tired after all that shopping, but only had about an hour at the hotel before we headed back to the Grothe's to meet with the Sunday School teachers from the City Bell church. This was our chance to really sit down with them and explain how they were going to be able to use all of the stuff we brought them. DBC will be sending them a curriculum, but they needed to know how to break it down and make it work in Argentina. There are lots of things that work great in a big church, but needed to be fine tuned to be used in a little church. They were very excited to see all of the things we had brought for them.
Kurt grilled some sausages for dinner that he called "Argentine Hot Dogs." I'm not sure it was really very similar, but they were skinny sausage links that we put on a roll with catsup and mustard!
The teachers at the City Bell church are really excited to be working with the kids and they are a great bunch of folks. We have really enjoyed getting to know them.