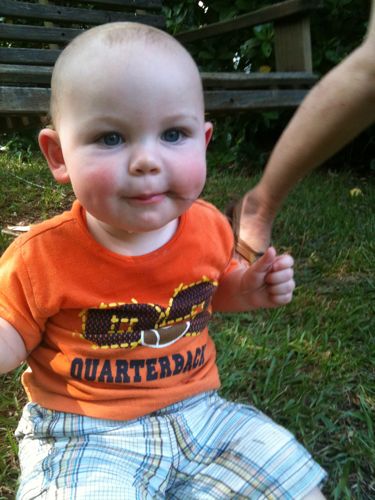 Come Friday morning when I wake up, the little guy that snuggles next to me each night will be a full blown one-year-old. As I consider how quickly the time has flown, I'm also blessed to reflect on what has transpired in the last year of our lives.
July 29, 2010 at 5:40 in the morning, after nearly 24 hours at Inanna, Grayson emerged into our lives with my little sister and my best friend standing by. In the days and weeks that followed, we were showered with love from visitors. We hosted my entire immediate family…(Mom, Dad, sister, 2 nieces, nephew), with the exception of my brother in law, but including my parents dog. Ryan's sweet mother was waiting patiently in her car, already in town, for the moment's notice to come and see her new grandson. To top it off, several families in our amazing little church brought us meals.
We settled into a little routine and in September, I started my little tutoring business. This kept me busy four afternoons a week, but it was a great way to be home with Grayson. Thanks to Hawley, Gus, Allison, Joey, Kaycee, Nathan, Emily, and Kim for helping make that possible by watching my little guy. The business is flourishing and I love being able to work with the kids in this way.
Ryan has continued to enjoy his job as a game programmer, though his official title is "Senior Software Engineer". He started in September of 2009 at Bonfire Studios (while I was in Argentina). In October of 2010, Bonfire was bought out by Zynga, providing more stability to his position.
Just before Grayson was born, we closed on our house. We've experienced lots of ups and downs during Grayson's lifetime, though we are so glad to be in a house with the little guy around. In September, we were able to put our home buyers' credit to work and pay for a complete replacement of our HVAC. Then, we turned around and spent whatever rebate we got from that overhaul on a brand new water heater when the old one exploded in December. The joys of an old house! Our AC unit was 35 years old, the furnace dated almost as old as the house, and the water heater was over 20 years old. Recently we've had the roof patched from wind damage, and replaced a belt on the tenant's dryer. I think we need the kitchen drains worked on next.
We have been able to get some work done improving the house in addition to all the repairs. Grayson's room got a fresh coat of Viking blue paint, thanks to the help of his Grandma, and it's looking better and better as we add to it. This spring, we hired a crew to do a major overhaul on the yard. Trees were trimmed and brush was cleared and the result is impressive. Next on the list is an exterior paint job, scheduled to take place in the next few weeks, and landscaping with new sod in the fall.
The house is such a blessing. We've hosted two baby showers here this year, as the size and layout of our living and kitchen areas works great for big crowds. We still have great tenants in the apartment, who plan to stay for awhile. Not to mention the amazing neighbors in the houses on either side.
And speaking of babies, in Grayson's first year, we've welcomed 3 new babies into our church, two new babies into the neighborhood (one right next door), and are anticipating 5 more over the next 8 months in our little church. Add to that my high school BFF, and we are just bursting with excitement over the babies!
In March, we were finally able to trade in my old car for something more safe and appropriate for mommy stuff. Goodbye rusty white 1999 Camry, hello shiny graphite grey 2011 Outback.
We live pretty far from my side of the family, but thanks to Ryan's great job and my tutoring income, they haven't seemed so far away this first year of parenthood. We traveled to my parents' house for Christmas, I was able to visit my sister in MI over spring break, my mom came for a two-week visit in April, and G and I were able to meet my sister and her kids in NC in June. We've been blessed with 3 or 4 visits from Grandma (she's a great babysitter) and made a couple of road trips to see her in Austin as well.
In December, our dear friends, the Rambows, returned form their stint in Argentina. We were blessed to have them back in our lives for 6 months before they left earlier this month for New Jersey. Emily kept Grayson some for me during tutoring and we are so grateful that he was able to play with their little girl.
I could go on and on about the things that have happened over the last year, but it would take forever. Of course, it would have been easier if I'd blogged all along than to try to cram it into one post anyway! Suffice it to say that it's been an eventful time, but we are grateful for all we've been blessed with.