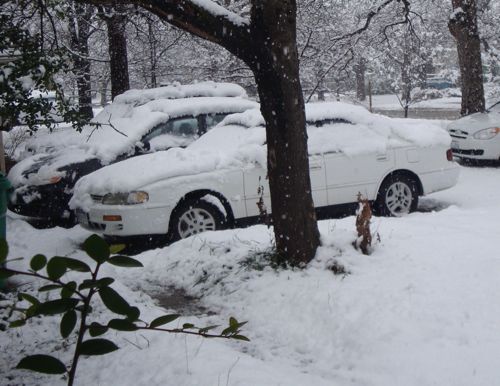 This is my car.
Almost exactly 9 years ago, I bought this 1996 Toyota Camry. It was my first big purchase as a "real" person after I started my first teaching job. I was so proud of it! Even at 5 years old, it was still gleaming white and ran like a dream. I was so proud to have a "new" car. It was the nicest car I had ever driven, and nicer than anything else my family had at the time. I was living in North Carolina back then, only about a mile from my parents house. I would pick them up for choir practice on Wednesday and church on Sunday just to enjoy driving my new car. I remember the sense of accomplishment I felt a few years later when I mailed the last check to the bank and received the title.
Now my baby is 14 years old and showing signs of it's age. The paint is chipping, the front end is dinged, the dash lights don't work, the brakes are bad, the CV joints creak, the timing belt is wearing down, there's a crack in the wind shield … I could go on and on.
We're at the point now where it's going to cost us money to keep it. I finally broke down and took it in to the repair shop today because the brakes are so bad that it's no longer safe for me to drive. (Not cool since I'm pregnant). It's going to set us back almost $300 to fix them. That's a car payment! While they had it in the shop, they ran into several other issues, all of which I was already aware. They told me that we could get them all fixed for around $1500!! Ouch! (Boy do I miss living 1 mile from my daddy!!)
At this point, the brakes are the safety issue, so that's what we had fixed. The rest we are just going to have to live with for awhile longer until we decide what to do next. It's just a struggle to know when it's best to "fish or cut bait". If we spent the money, the car would probably last us a few more years. If we have to spend $300 a month on a car anyway, we might as well have a new one. Neither choice is a bad one, but it's a choice that we have to make for our family.
Have you ever been in this situation? I'd love to hear what influenced your decision.