As I have a few minutes here and there, I've been working on a few crafty things since G's arrival last year. I've continued to make the flannel receiving blankets, but I was forced to cut back on my crochet and knitting due to some pretty painful postpartum carpel-tunnel syndrome. I have a few projects on hold that I hope to get back to, but this post is about my newest focus: sewing.
I was fascinated by the diaper pail liners and wet bags that my sister made for me. When my friends Allison decided that she was going to cloth diaper her new baby, I resolved that I was going to make a few things for her. With the help of my little sis, I got fabric ordered and cranked out four diaper pail liners (2 for Allison and 2 spare for myself) and 4 cute little wet bags.
Upon seeing how cute these turned out, I kept going back to the site where we ordered the fabric, Kids in the Garden, and just looking. The lady who runs it makes and sells cloth diapers. She also sells a couple of patterns for making your own. I'd noticed LOTS of sellers on Etsy who make cloth diapers. It was so tempting, but I was completely freaked out by the idea. The idea of working with the elastic scared the heck out of me.
Eventually, curiosity got the better of me. I HAD to try. So, I ordered a pattern (The Nikibaby One Size Diaper)… it was less than $10. I purchased some cute fabric, and a set of snap pliers with plastic snaps.
Yes, the elastic is a super big pain, but it turned out not to be as difficult as I'd expected, and I quickly cranked out this cute little number: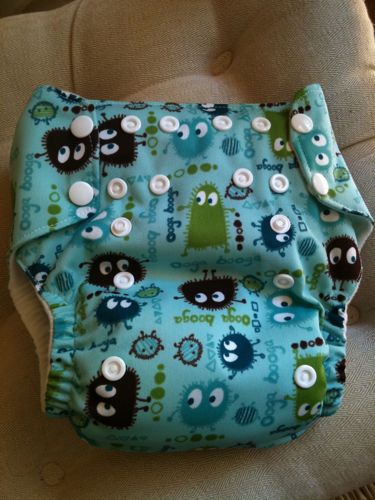 I was SOOOOO excited! Here's a shot of my little guy modeling it. Sorry for the bad photo. It's really hard to get him to stop moving!!!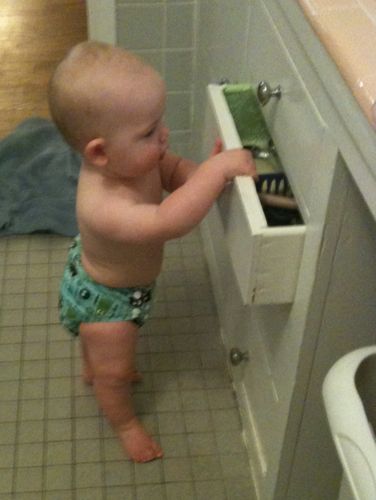 After getting comfortable with this pattern, I thought about how to modify it to make a cover for pre-folds. I took some measurements of the covers I had around the house and made a pattern. Putting the diapers together turned out to be another challenge, as there is the added difficulty of binding the edges with fold over elastic (FOE). After 3 attempts, I finally got it down in time to make a gift for my friend Paige. Wish I had a picture of that one, but here is G in one of the first attempts: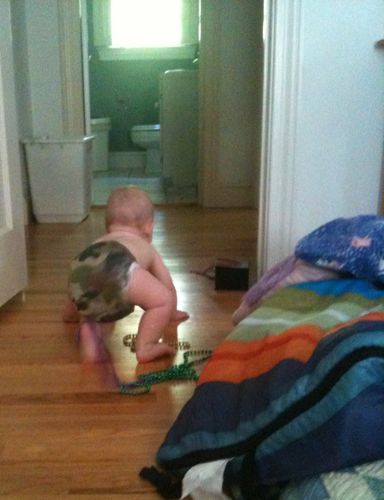 Making diapers has turned out to be a lot of fun. You can do so many creative things. If you are a wanna be cloth diapering expectant mom and a friend of mine, expect some cute "fluff" in your baby gift!