Recent and Upcoming Life Events
Life is going pretty great right now.  
On June 5, I celebrated 9 years of teaching high school math.  On June 14,  my husband and I celebrated 6 years of marriage. Ryan graduated from UNT in December of 2007 and has been working full time as a video game programmer since then, so this fall, I will begin my dream job of being a stay at home wife(No kids on the way, yet!) So, the question is, what am I going to do with all my free time?
Remember my Spring Break blog post?   I'll be doing much of the same stuff I listed  back in March.   I will continue swimming, hopefully upping the frequency.  I am starting a math tutoring business that will get off the ground this week.  During the month of July, I will do a lot of packing since we are planning to move at the end of the summer.  In August, I will travel to Argentina.  In December, I will go to Michigan to witness the birth of my third niece/nephew (don't know which yet!)  Oh, and I will be helping out with the new BTCL class.  Other than that, only God knows!
I'd like to say more about how God has opened the door for me to go on a short-term mission trip to Argentina. Denton Bible Church has established missionaries in the cities of La Plata and City Bell that are working with local churches and involved in church planting. I, along with seven others, will be in Argentina for 10 days. We're going to assist those missionaries in establishing and organizing Sunday School for Children ages 2 – 15 in the local churches.  In addition to all we will be doing with the children's program, I will be staying an additional week to assist one of the long term missionary couples, who are expecting their first baby in July.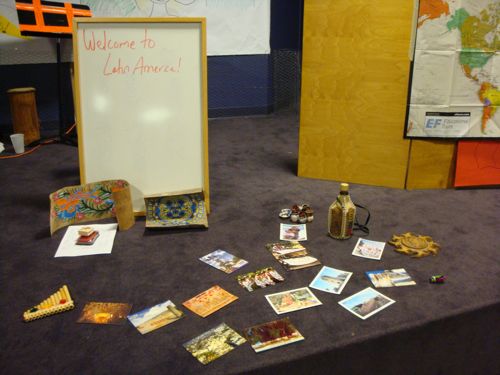 (Photo of some Latin American stuff that we showed to kids at the DBC Missions Conference.  Because of my involvement on the Argentina team, I was asked to head up this room.)
Dear readers, please add this mission team to your prayer calendar, especially during the time we will be working alongside the Argentine Christians. Also, If the Lord leads you to join us financially in this mission, please contact me message and I'll send you more information.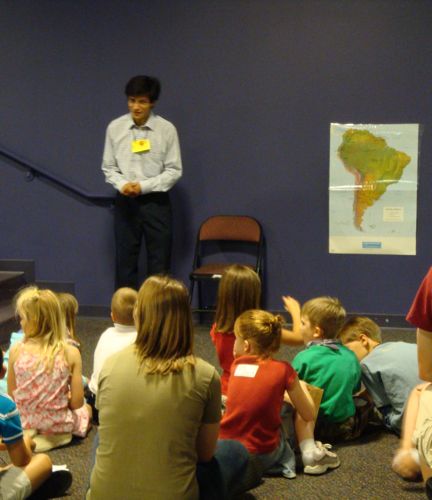 (Here we were telling the kids about Argentina.)
Did I say life is going pretty great?  :)