Coffee Cup Chronicles: Part 1
I love coffee.  I'm not one of those purists who think you have to drink it black, but I can tell the difference between a GOOD cup of coffee and the cheap stuff, even if I do like to add flavored creamers and sugar.  
Many mornings as I savor my hot cup of coffee, I have noticed my mug and remembered where it came from.  Nearly all of my mugs have a story to go along with them.  I'm not sure I have a single ceramic much that I just bought for myself.  (This IS the case with the majority of my travel mugs, however).  Recently, I had the idea to post pictures and share the stories of each of my mugs.  It will be a fun trip down memory lane for me and I hope an enjoyable read for my friends.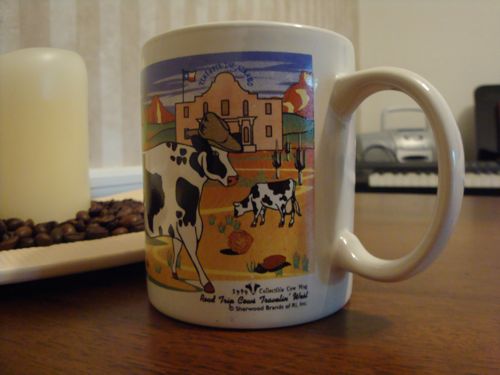 Did you ever meet one of those people that you just loved immediately?  A person who was kind, understanding, available, a good listener?  This is the type of person who is a friend to everyone.  It was a friend like this who gave me today's coffee mug.
I met  Alison E. (now Alison R.) while I was a student at Meredith College.  We were both involved in Campus Crusade for Christ and lived on the same hall in the dorms at least two years.  Alison was one of the people I spent the most time with while I was in school. She encouraged me through stress, relationships, and life in general.  She was always there if I needed a friend.  We spent a lot of time together even after graduation.  I would spend weekends with her in Raleigh after I'd moved back to Greenville.  I've seen her two or three times over the last six years since I moved to Texas.  I wish it could be more.  She's so precious to me. 
I don't remember the occasion of this mug.  I know it was during our senior year or after graduation, because I was already dating Ryan and we were pretty sure that I would be moving to Texas.   Alison picked this mug because the cows were traveling to Texas, just like I was going to do!  Thanks, Alison!
My new goal in blogging is to address a different theme each day.  Look for the Coffee Cup Chronicles each Thursday.