Today's cup of choice happens to be the one I am sipping out of as I compose today's post. It is a favorite both because I love the design, and because of it's large size. Bigger is quite often better when it comes to a good cup of coffee. However, it is most precious to me because of the memories. This lovely mug shines in pastel print with some of the names of our Wonderful God and was given to me at a very special time.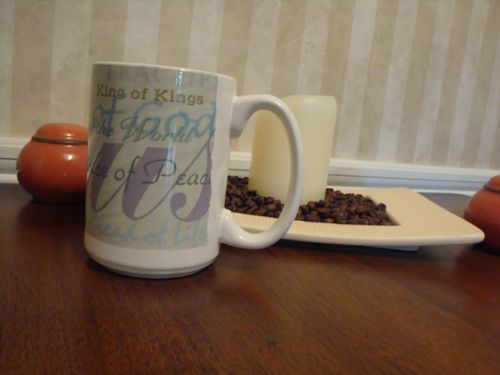 I moved to Denton just over six years ago. I'm kind of shy in new situations, and don't easily come out of my shell unless circumstance force me to. So, when I moved here to get married, I decided that if I was to make new friends, I was going to have to jump in head first and join the first Bible study my new church offered, no matter what. It ended up being a study of Titus 2. (GREAT stuff, by the way). As a result, I became good friends with many of the women in the church.
Not long after, I was invited to serve on a team to plan our annual women's retreat. As a newly married woman, not long out of college, I was quite surprised and very honored to be asked to help some of the women I admired most in my church (including the wives of several elders) to plan such an event. We planned the weekend retreat around the theme of "The Names of God". Each name of God reveals something about his character, and the mugs were given to each woman to remind us daily of who God is.
So now, years later, as I hold this lovely mug filled with coffee, I am reminded of the love of God and the precious women in my church.