Read it At Last
One of my all time favorite reads has been the Mitford books by Jan Karon.  I got into them after most of them were already out, but early enough that I had to wait in anticipation for the final book to be released before I could read it.  When I found out that Karon was going to continue the story of Father Tim in a new series, I was ecstatic, but the waiting began again.  Once the book finally came out, I still couldn't read it because I was working full time and had too much going on to read anything for fun.
Now that summer is here, reading time has returned.  While I was at my parents' house in early June, I was finally able to borrow the book from my mother.  I had to let me sister read it first, but I was able to bring it home and finally dig into it myself.
It was SO worth the wait!!  Characters briefly mentioned from Father Tim's past in the original series now come to life as Father Tim travels back to his home town.   And BOY does he have a past!  We learn about the trials that he experienced as a child that lead him to become the lovable, balding, Episcopal priest of the Mitford books.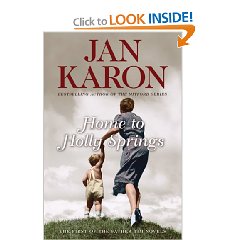 Of course, now I am left with the problem of waiting again until the next book is released.  It's not slated to come out until 2010!!!!!