I've always been a big planner. I like to know what's going to happen, when it's going to happen, who's going to be a part of it, and how it's going to be paid for. It's actually a bit of a struggle for me to be patient in the midst of certain situations. In fact, it's probably one of my biggest areas of weakness.
I know all the truths from God's word, as I posted days ago, but I still find the urge to make plans. I know it just makes God laugh.
Here's a update on some of my recent "plans" not turning out like I intended.
This is Madeleine. I was supposed to be on a plane TODAY to meet this sweet little baby in Argentina. She is the daughter of my precious friends who are serving as full time missionaries in Argentina. However, due to the Swine Flu, I've spent the last three weeks wondering if we were even going to go. The elders at the sending church spent a great deal of time debating back and forth over whether to send, postpone, or even cancel the trip altogether. Finally, on July 29 we received confirmation that the trip would be postponed. We are now considering September 4-15 as the new dates. Of course, this is still subject to change depending on how much the situation in Argentina improves.
Then there is that whole plan I had to quit teaching. While I still have no intention to go back to work when the 2009-2010 school year begins late this month, I currently find myself in a paid teaching position. On Thursday of last week, I was hanging out by the pool with my pastor's kids when I received a phone call. There was no name, but I recognized the three digits from the high school. It was one of my former Assistant Principals. I knew when he identified himself that I was going to be asked to come back for something. Just didn't know what.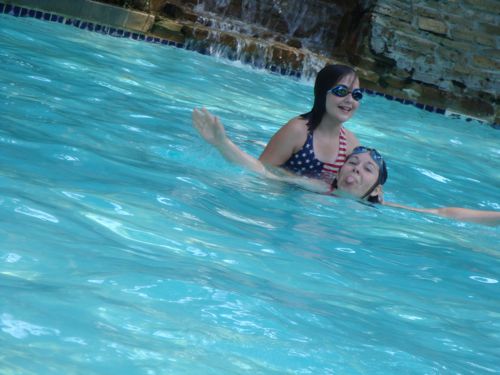 Long story short, they were running out of options and I was asked to come teach math for a Jump Start program targeting rising 9th graders who failed their Math TAKS. On Monday, I began this experience. It's from 8:00-12:00 for three weeks. It's a paying gig,and I wouldn't have been able to do it if we traveled to Argentina as scheduled, so maybe we'll be able to buy our new couch after all!! (30 days until we move!!!!!)
So, today I'm sitting on my couch with a notebook, a laptop, a pen, and a pad of paper and I'm planning my day, my week, my month, and my life.
And God is laughing.