Recently I posted some pictures of materials that I intended to turn into quilted bags. After much great anticipation, I finally have something to show!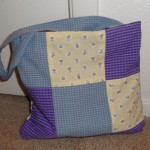 After cutting up a few shirts and trying to piece them together, I was a little frustrated. Nothing seemed to lay right and I was ready to give up. Finally, I decided to keep it simple and start with rectangles. I cut and stitched and here's what I came up with.I'm not really happy with the colors, but at least the materials were free!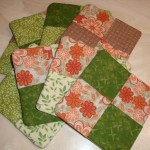 On Saturday I went to a ladies' craft gathering. I took a crochet project … another bag that I hope to give as a gift. The hostess is a quilter and has been making these cute quilted coasters. She'd set up all the materials and the instructions, and I just had to make one. It turned out so cute that I decided to come home and turn all of my fabric quarters into coasters. I managed to complete 8 of them before realizing I really did want to see these fabrics become a bag.
Sunday after church, I came home armed with renewed ambition. I got online and looked at several Crazy Quilt tutorials. My biggest problem is that I didn't have a pattern. I had to cut, stitch, unstitch, and trim over and again before I finally got a pattern that laid flat. I lined every panel and the inside of the handle with fusible interfacing for strength. I had to pin pillow cases together at one point to figure out how to stitch the outside to the lining. But, all in all, I am pretty happy with the finished product.