Another Knitting Project Complete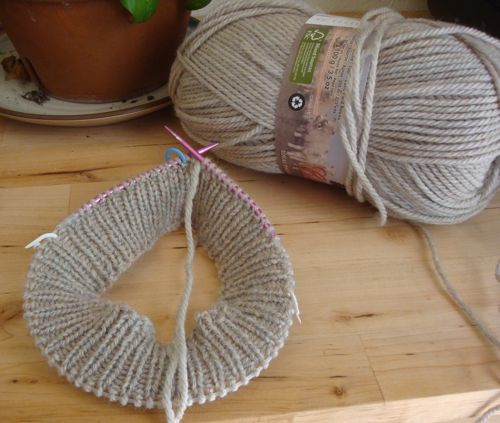 With the successful completion of my sock project, I decided I was ready to take on something else knit.  My sister recently decided she wanted to try wool soaker diaper covers with her 3 month old son, and it occurred to me that this might make a good next project.  It's a piece of clothing stitched in the round, but not nearly as daunting as a sweater might be.  So, I went on a web search for a good free pattern.  I sent a couple of links to my sister for approval, and we wound up choosing this one. You can see my finished product in this picture.
There were points where I worried I may have bitten off more than I could  chew with this project.  I'm fairly certain that the pattern writer did not have quite such a newbie in mind when she wrote her directions.  Fortunately, their are sites like knittinghelp.com with great video tutorials.  This got me through most of the difficult areas I ran into.  I really only hit two snags that I couldn't figure out how to get around.  The first was in the area of short rows.
Short rows are created when you turn around mid-way through a row of knitting to create some extra height in the middle of a piece.  In this case, it causes the back of the soaker to have a bit more room than the front, which is good for chunky baby bottoms!  It's a pretty easy technique if you are just knitting a flat piece or in the round, but it's quite common to wind up with holes on one end of the short row.  I found solutions to this problem for the common situations, but  I was knitting in the round with ribbing.  I have been searching Google for a solution, and all I've been able to find are other people complaining of the same problem.  I'm hoping to work it out for future projects.  Here is a photo of this part of the work.  You can see two small holes just to the right of the middle line of the picture.  They are not obvious unless you know to look for them, but I wish they weren't there!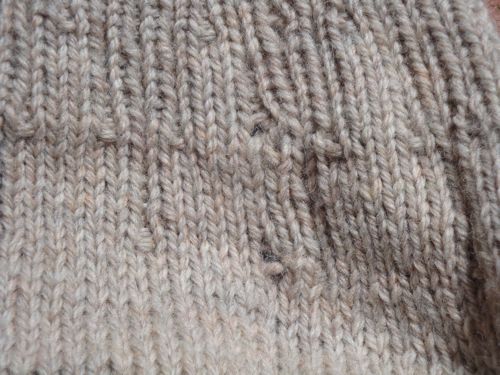 My other issue will be easily resolved the next time around.  The short rows are supposed to be in the back of the diaper cover.  For the majority of the pattern, there is no distinction between the front and back.  The hip markers are evenly spaced around the piece.  So, when the pattern said to create short rows from one hip marker to the next, I assumed that it meant to start at the first one and go to the second.  This ended up putting them where the front was supposed to be, as the "start of round" should have been the back.  This meant that when it came time to shape the leg openings, I had to snip the yarn and move to the other side, when I should have been able to keep working around from where I was.  In the process, I didn't get something pulled tightly enough, and I ended up with a pretty big hole smack in the middle of the back of the soaker.  I didn't get a picture of the hole, but the next picture shows the repaired spot.  Next time I will start my short rows at the second marker and I think this will be avoided!
I'm sure some of you are wondering about wool diaper soakers.  This is not a route Ryan and I intend to take with our baby, but I can see why many people would choose to use them.  You can check out the benefits at Green Mountain Diapers.
Posted April 4th, 2010 in
Crafts
.