We OWN this place!!!
It's official!  As of noon on Friday June 4th, 2010, we are HOMEOWNERS!!!  We were hoping to be official a week earlier, but getting documents from a seller all the way in Hawaii caused us to push closing a week.  No big deal, though.  It just means our first payment won't be due for another month!
Home ownership is pretty cool.  We've already been living in the house since September, since we started out as renters, but now we can really start making this place our home.  It's got a few quirks, but we've also found some cool surprises.  The furnace is about 50 years old, all three bathrooms will need updating, the apartment needs foundation work, none of the electrical is grounded, and the yard is a MESS, but we discovered that the front yard has a fully functional sprinkler system!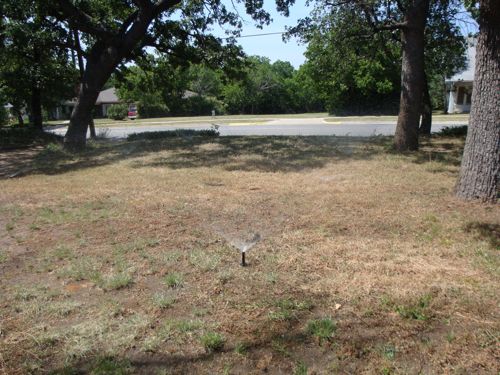 We've also discovered that my husband is pretty handy.  The hall sink hasn't worked properly since we moved in.  There was a plumber out right after we moved in back in September who managed to get the leak to stop, but we've been living without any hot water since that time.  The seller paid for us to have the valve replaced, but the faucet knob was so stripped that you still couldn't turn the water on, so we weren't much better off.  Ryan decided that this was going to be his first big home improvement project.  We went to Lowe's, bought a new faucet and some tools, and two days later, our sink is fully functional!!!
So one project down of many more to come.  We're going to hire someone to paint the outside of the house once we get our tax credit, but we plan to tackle many of the other projects on our own or with help from friends.  On our "To Do" list:  landscaping, interior painting and drywall repairs, new tile floors in both bathrooms, new counter in the master bath, new grout and caulk for the tubs in the master bath and the apartment bath, moving two interior door ways to create a true galley style kitchen with more counter space, a new roof, new locks on all the doors, … there's more, but I can't think of it all right now.
We are really excited to own this house and are grateful for God's provision in being able to do so.  We never would have found this place without Taylor and Allison who clued us in last spring that it was coming open to rent.  We're thankful to Charlie, our landlord, for letting us know he was going to sell it instead of just putting it on the market.  We're grateful to Ryan's dad for helping with the downpayment.  And were grateful to our incoming renters.  God used each of these pieces to provide, and now our baby will be born into a house!!