Staying Cool at 35 Weeks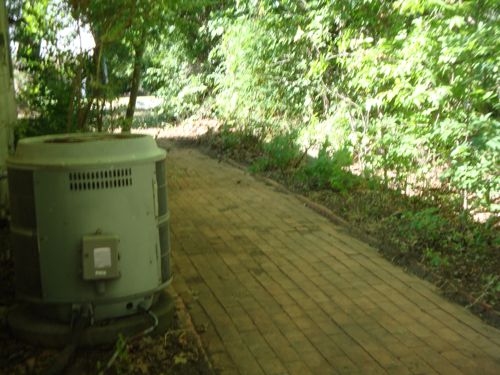 I knew being pregnant in the summer wasn't going to exactly be "fun".  I expected to be hot and uncomfortable.  I didn't expect to be unable to be cool in my own home.
At 35 weeks pregnant, I've gained 28 pounds and am finding it much harder to assume comfortable positions around the watermelon that now resides where my stomach once was.  Add to that the fact that our air conditioner hasn't been functioning for nearly 2 weeks, and it's pretty hard to take.
We knew the AC unit was old when we bought the place.  However, it WAS cooling the house.  At least it was until we woke up on June 21, the morning after the big party, to a house nearing 85 degrees at 8:30 in the morning and we heard a grinding noise coming from the unit.  NOT cool!  We shut it off, since it wasn't working.
So, we called our Warranty company to send out an AC repair guy.  Due to busy schedules, no one could come out until Tuesday.  On Tuesday, the brilliant man who came out told us that there was absolutely nothing wrong, that it was just old.  He claimed we needed a new unit.  We turned the unit back on and left it running and grinding, however, so we could at least cool the air a bit.
Unhappy with this diagnosis, we called the AC company and asked that they send us another guy.  This guy came on Wednesday.  This time, the unit was cleaned, inspected, and we were told we needed a new fan motor, which couldn't be replaced because the unit was so old they didn't make the bracket needed to install it.  He also tried to sell us a new unit, naming a price that he obviously pulled out of thin air.  He claimed the warranty would cover part of the cost, but he didn't tell us which part.  These guys left, we still had no cool air, and later that night, the unit completely quit running altogether.  Ryan even resorted to going to Wal-mart at midnight to purchase a small window unit which he finished installing in our bedroom at 3AM.
We again contacted the warranty company and asked that they send us a different AC company, because we felt the prior company wasn't being honest with us about prices.  We were finally assigned another company last Friday afternoon, but were unable to contact them until Monday.  When I called this guy, I was told that he no longer worked with our Warranty company.  He listed several other companies that he would be happy to do work for, but not ours.  Needless to say, our confidence in the resolution of the situation was wearing thin.
The call was re-dispatched at least twice more, but it wasn't until Tuesday afternoon that we finally got another AC guy out to the house to look at the problem.  This guy didn't really tell us anything different, but it's what he didn't tell us that made us a bit more confident.  He didn't give us any estimates until he could talk to the Warranty company to see what they were willing to do.  At last!  Someone who seemed trustworthy!
However, our problems were still a long way from being solved.  As I write this, it is Friday, a full 11 days since we first called the Warranty company with our complaint.  We are waiting on them to decided what to do.  They asked for a copy of our inspection report, which we've sent.  However, no feedback has been given.  Since this weekend is July 4th and many people will be off work on Monday, we can't expect anything to be done until Tuesday at the earliest.
In the meantime, we're spending lots of time in the bedroom and not even able to enjoy the rest of our house.  I tried to cook once, which only resulted in my nearly having heat stroke with the additional heat from the over.
I'm trying to enjoy the cooler weather God has provided though the rains over the last week.  I'm grateful for the break from the 100 degree days.  However, I will be much happier when this whole situation is resolved.