Some Thoughts for Today
It's beautiful out today.  I'm so glad I was texted by a dear friend this morning to go for a walk to our town square where we had lunch outdoors at a local Mexican restaurant.  Grayson loves walks, and he loves his stroller.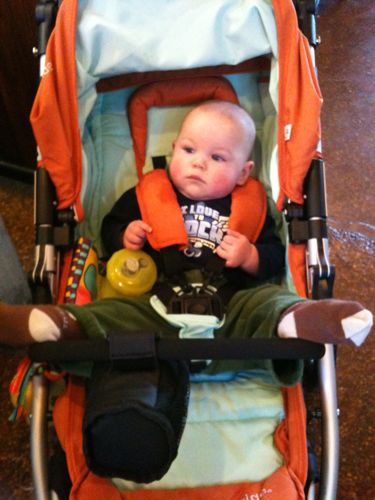 After returning home, there were a couple of happenings worth noting.
I have officially ordered G's new car seat.  We've had a love-hate relationship with his infant carrier.  The convenience of leaving him in the car seat while he's sleeping has been a plus, but it's gotten SO HEAVY that G's little 5 foot tall Mommy simply can't take it any more!  We settled on the Britax Marathon 70 in Onyx.  Should be here before the end of the week!
I also ordered a new Baby K'tan carrier.  I LOVE my old one, but the more I use it, the more I realize the sizing is wrong.  So, I posted the Small one on Craigslist last night for $40.  (They run $55-$65 new).
Just as I was ready to take G next door to the sitter for tutoring, I realized he had pooped!  So, I was finally able to try out my newly installed diaper sprayer.  It works GREAT!  I am going to have to get a little help adjusting the connection between the hose and the spray wand, as I ended up with a puddle in the floor.  Otherwise, it is the PERFECT tool for the job.  It was so easy to use and it cleaned all the solids out of the diaper without splashing into my face or the floor.