This morning was a little rough. There was a prayer meeting this morning at Kurt's house that Evelyn and Emily went to. Ken and I were supposed to meet with Kurt and Greg at a later time while the two other ladies went back to rest. There was a miscommunication about the meeting time and I wound up missing it. Hope its OK!
In fact, the whole schedule today was a little rough. We were supposed to go to the Orphanage at noon, come back to the hotel to rest, and then go out around 5:00 to pass out flyers on the streets of City Bell to promote Kurt's English class.
Here's what wound up happening. We left the Orphanage early and planned to go back at 5:00 because many of the kids were at school during our originally planned time. Evelyn was able to share with some of the kids about Jesus, but our time was cut short.
So, we went back to the hotel and worked on planning for Friday's presentation on Sunday School programs. When we went back, we were only able to spend one and a half hours before we needed to head downtown to pass out flyers.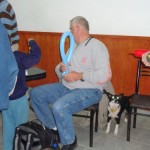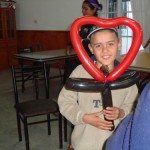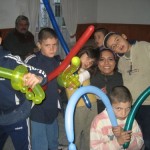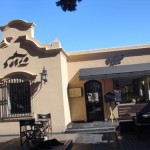 For dinner, we went to what probably equates to a very high end restaurant called Sutra.
The meal was around 350 pesos for 6 people, including dessert.
The girls split a Chicken with Asparagus entree and a salad called the "Bonnie and Clyde". I've also included a picture of the "Romeo and Juliet" salad that Don ordered because it was so pretty.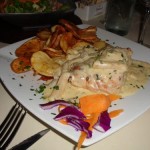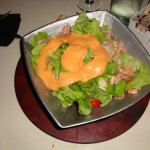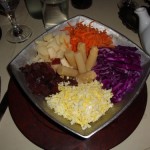 The exchange rate is $1 to 3.8 pesos, so it was really less than $100 for all 6 of us to eat at this really nice place. It hits home when you realize that dessert was a fancy chocolate fondue.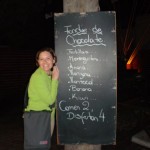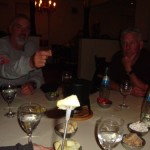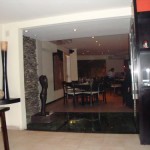 After dinner, we returned to the hotel. Emily and I ran into our new friend Emmanuel from Nigeria who is also staying here in the hotel with his soccer team. He requested the number for the Taxi service, and for our team so that he can explore the city and get in touch with us more easily about church.
Now we are very tired and need sleep!!!